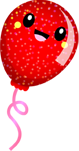 Holly is a character on the Go!Go!Go! programme.
Her signature colour is red, and her symbol is a button.
Description
Holly is an exceptionally organised person. She has an endless amount of checklists and schedules that she keeps on her favourite red clipboard. Holly can get rather bossy (not in a mean way) sometimes to others, but she always means well. All of Holly's clothes have polka dots and red buttons on them. Her hair was originally brown when Go!Go!Go! began in 2010. In 2013, her hair has since gone cherry red. In 2019 she dyed it orange.
Official bio
"Hello, I'm Holly, I try to keep everybody organised and I love helping people out. I really like teaching new skills to the Go!Go!Go! guys whenever I can. My friends say I'm an 'explosion' of good ideas and I have a backpack full of really useful items. I love making things, especially my own clothes and accessories! I'm particularly fond of polka dots and buttons :) And I really like trying out new recipe ideas in the kitchen too! My birthday is 5th November (Guy Fawkes' Day)."
Appearances
Songs
Holly sings the following songs. A bold title means Holly is the main singer for the song.
Shorts
Holly appears in the following video shorts:
"

Holly's Tree House Tips

"
"

Learn the Moves

"
Gallery